On the 23rd March 2017 our CEO, Chriss Andrews, along with some of her colleagues, will be attending the highly anticipated annual awards gala & dinner ceremony at the London Marriott Hotel, Grosvenor Square to celebrate and recognise excellence and innovation in the field of information technology within the UK and EMEA financial services sector.
Church International have been proud to be associated with the awards for over 6 years and have partnered with many of the shortlisted businesses to hire and retain their award winning permanent teams and source contract and interim specialists to provide the expertise required for major transformation and innovation programmes.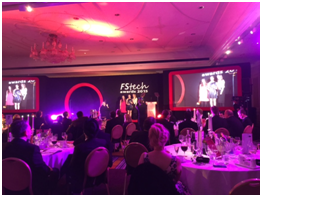 The event last year was attended by over 500 guests and is set to be bigger than ever this year and Chriss will be presenting the Infrastructure Solution of the Year award on the night and the finalists are Barclays, Cognizant Technology Solutions, Deutsche Bank AG, Investec Asset Management, Misys, netConsult and XCelor.
We wish all the shortlisted companies in all categories good luck with their entries and look forward to celebrating a successful evening with everyone.
Click on a social media icon below to share and make a comment