Church International is excited to announce that for the ninth consecutive year they are one of the lead sponsors of the FStech Awards 2020. This annual ceremony celebrates excellence and innovation within the UK and EMEA financial services sector. Church International is a leading provider of technology and digital recruitment services and is delighted to be associated with such a prestigious event.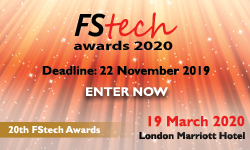 The deadline for entries has been extended to Friday 6th December 2019. It is free to enter and this year they have introduced eight new categories. Click here to enter.
The shortlist will be announced early 2020 and then there will be a gala dinner on Thursday 19th March 2019 at the London Marriott Hotel, Grosvenor Square.
This is 20th year running for this prestigious and well recognised awards dinner. The categories cover a wide range of areas such as; Most Innovative Product of the Year, Most Disruptive Financial Sector Technology and Best Use of Data & Analytics – to name a few.
Brian Fitzgerald, MD of Church International comments; "We continue to sponsor this industry focussed event as it fits perfectly within the area of our core client base and expertise. The FStech Awards attracts all of the leading financial institutions and technology providers. Chriss Andrews and I will be attending the dinner and we look forward to congratulating lots of our current clients and partners being recognised for their excellence in the FinTech space and presenting awards to some of the winners."
About Church International
Church International is a progressive international technology and digital recruitment firm specialising in financial services, insurance, asset management, engineering, and the digital and creative sectors. The company ethos is people first and is committed to providing the best possible experience for clients, candidates and employees alike. Founded in 1984 by CEO Chriss Andrews, Church International has placed over 9,500 candidates with over 500 organisations across Europe and the United States. Building long term trusted relationships has been the cornerstone of the firm's continuing success which has enabled Church to create a sustainable, profitable business even during the most difficult economic climate. 2017 was another great year of increased growth in terms of financial and geographic expansion for Church International which is led by MD, Brian Fitzgerald and employs some 20 people. Blue chip clients include BNP Paribas Fortis, Bank of England, Direct Line Group, Fidelity International, Royal Bank of Canada, Lloyds Banking Group, Gazprom Marketing and Trading, Verifone, IMI, CBRE and Ove Arup. Church International is based in the UK and Eire and is part of the IntroGroup Limited group of companies.
More company information please contact us.
Click on a social media icon below to share and make a comment