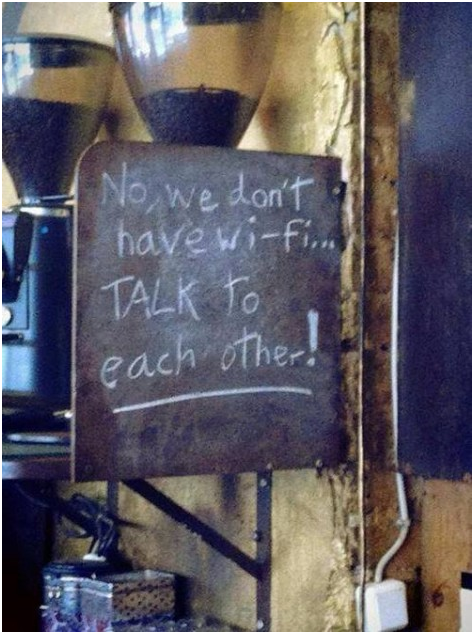 I saw this photo on line this week and it made me smile as I am always moaning at people to put phones down and engage with each other in reality rather than virtually.
At work I am undertaking a project to review our own recruitment strategy for the Church International Academy, ensuring we are screening and recruiting against our core values, commitment, integrity and teamwork, and that our process is fair, consistent to not only give candidates a great experience but also give us great candidates.
Traditionally recruitment has relied mainly on gut reaction ( and the Old Boy Network if you are in Banking!). In the last few years there has been a move towards automating as much of the process as you can – job boards that search for and amalgamate responses, ATS's that automatically generate responses to candidates, profiling and assessment tools that automatically screen candidates, and forms and spread sheets that help you asses candidates skills and experience. Automation, we are told, makes recruitment quicker, more consistent and cheaper….. Now, I am all for consistency and fairness – we strive to ensure that we are recruiting a diverse workforce, that all candidates are judged on the value they can add rather than where they went to school and that candidates who have transferable skills are as valuable as those who have exactly relevant experience – however I do want to feel and take into account my gut reaction. I must "feel good" about the person who is sitting opposite me in the board room at interview, I want to like them, I want to trust them and I want to feel that they have similar core values to myself and importantly I want them to do really well when they join the team here.
Psychometric profiling can help me understand about someone's likely behaviours and I can plot this against our established core values, ensuring we hire people who believe in the same things as us. I can ask for learning's from experiences to test skills and I can use my own skills to really find out what people are passionate about. Putting all of this together with the gut reactions from our recruitment panel and a scorecard for recording data to ensure consistency – will give us the best shot at identifying people perfect for a career in recruitment.
If you are interested in finding out more about a career in recruitment I am happy to spend some time telling you the benefits.   It's a great career with potential to earn lots of money if you're good.
We are recruiting for all levels including entry level recruiters currently, so feel free to get in touch – call me on 01622 675126 or email: claire@church-int.com
Click on a social media icon below to share and make a comment